Creating a business model for the HR function is like drafting a blueprint for a complex machine, with many moving parts all working in harmony to perform a task and achieve a goal. In the real world, developing an organization's HR Service Delivery Model provides talent leaders with a blueprint for success amidst the growing complexities of modern business.
The model identifies what HR will deliver, how it will organize and deliver those commitments, and which benchmarks will define variations and the quality of services within that model. The concept goes beyond simply organizing the HR team and focusing on the function's structural design. Instead, a proper operating model – especially one that is adaptable to any business environment – will account for nuances in team collaboration, members' technical proficiency and experience in service delivery, as well as the speed of the team's corrective actions as part of an overall HR strategy.
In the Asia Pacific, the adaptability of HR service delivery models has been vital to recovery. Across the region, firms that are ahead of the curve in the pandemic economy emphasize adaptability as the cornerstone of their resilience – especially amidst the disruptions of the past 18 to 24 months.
Since the COVID-19 crisis began, governments in the region have continued to implement restrictions on economic and social activities. Despite these measures, however, there is hope for a rebound in business. This optimism is underpinned by following an Adaptable HR model that is designed to respond to the challenges of the times.
Findings from the Alight State of HR Transformation Study, in partnership with People Matters, prove how the adaptability and responsiveness of the HR function are key to businesses emerging stronger from the pandemic.
Organizations with Adaptable HR functions are 1.5 times more likely to witness growth in their revenue and profit even in an environment of volatility and disruption. To drive towards that goal, however, organizations need to revisit their overall strategy. As results of the study suggest, APAC firms with Adaptable HR are:
3 times more likely to be proactive in driving institutional change, new ways of working and the adoption of work technologies
3 times more likely to succeed in delivering a closer partnership with the business through their operating model and capabilities
1.5 times more confident in their HR strategy and execution and also 1.7 times more productive
1.5 times more ready to address talent risks posed by the changing environment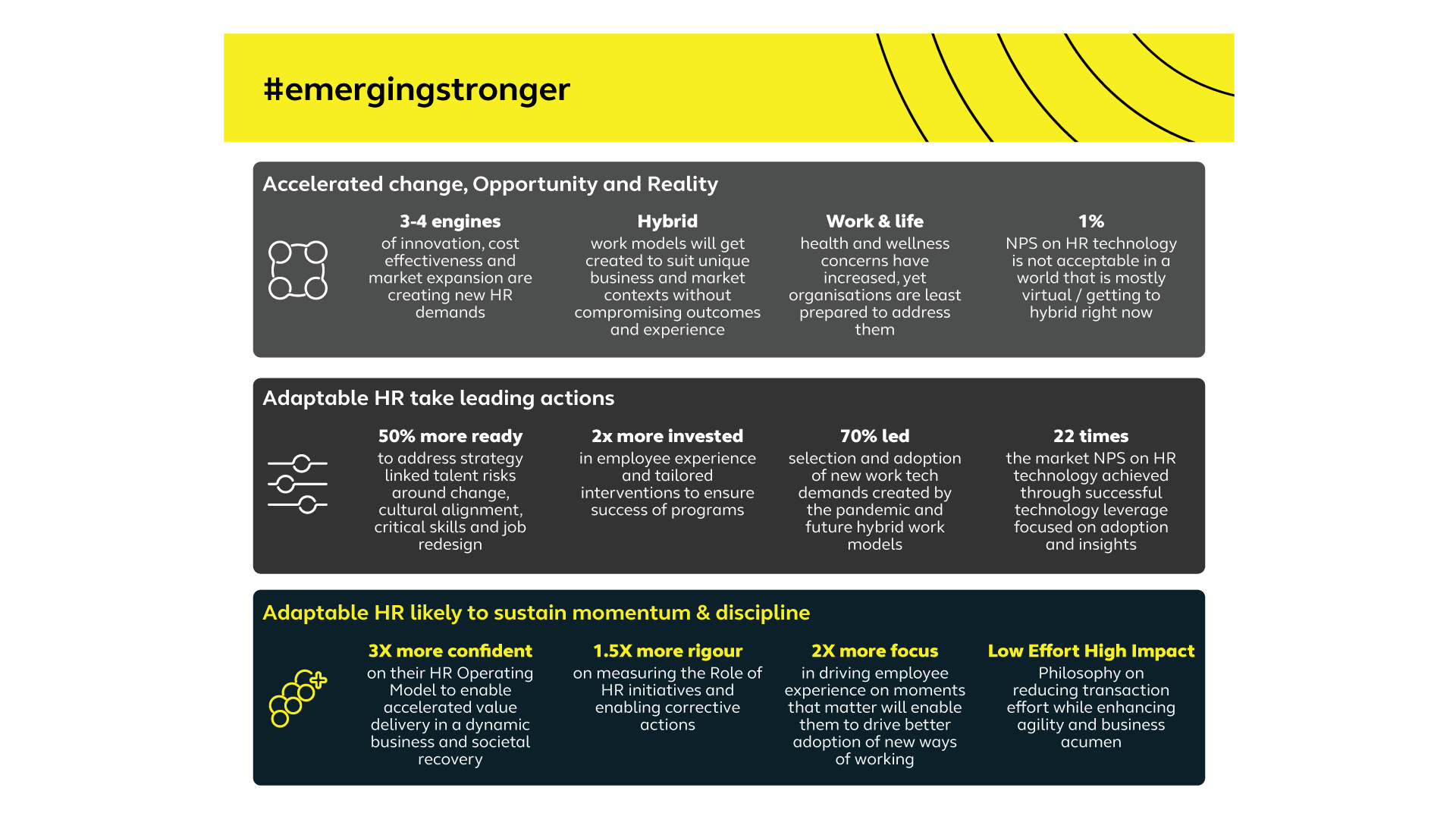 Businesses in the region are poised to recover from the crisis, but they require a transformative process that puts people and culture, as well as systems and tools at the center of change management.
Digital transformation, after all, is also anchored on HR transformation. Findings of the study further revealed how innovation, cost effectiveness, and market expansion have cast a new light on the real value and impact of HR on the overall business. These growth strategies are creating newer demands in HR service delivery, including technology upgrades and cultural alignment, to better support the more strategic goals of talent management and development and ensure the strategy impacts the bottom line.
From recovery to innovation
When organizations are equipped with Adaptable HR functions, they are 50% better prepared to tackle talent risks surrounding change, cultural alignment, critical skills, and job redesign – all of which are elements of businesses on the cusp of innovation.
In a climate of recovery across APAC, the drive towards HR innovation hasn't waned. It has, in fact, translated into improvements in employee experience . Leading organizations in the region are twice more likely to invest in designing a positive employee experience and in formulating programs and policies that align with employee needs compared to organizations who may be falling behind in their transformation journey. These investments into employee experience have prompted 70% of firms to select and adopt emerging tools amid the challenges of the pandemic and the shift to remote, flexible or hybrid working.
The shift to Adaptable HR
Building an Adaptable HR function entails more than just reacting to the business needs of the hour – and in a period of disruption at that. Mature organizations are instead leveraging resources and leading business innovation and agility with intention. Top firms have invested significantly in tools that accelerate value delivery: from enabling effective collaboration (55%), to ensuring HR leaders have a seat at the executive decision table (50%), to developing managers (46%) and adopting new work technologies (34%).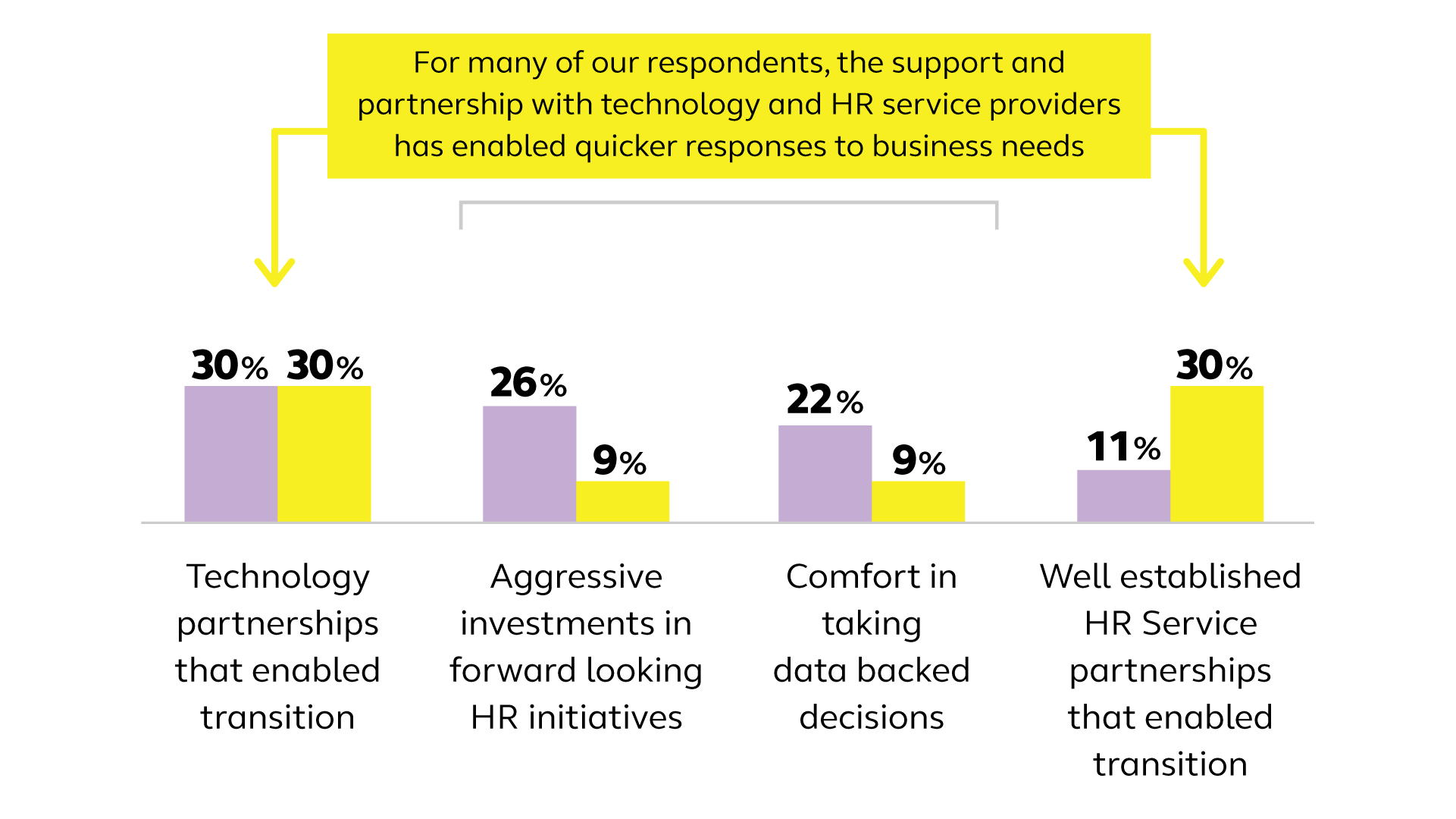 What separates the best of the best is how the support and partnership between technology and HR service providers at these top firms become part of their strategy. Both technology (30%) and HR service (30%) partnerships enabled organizations to become more agile.
What does the shift to Adaptable HR look like – and what outcomes does this modern approach yield? Pivoting to this model allows HR to constantly reduce their administrative and transactional burden by driving what we call a "near zero" operations focus. The model gives HR professionals the bandwidth and capability to drive at real business outcomes, enable companies to maintain their competitive advantage and – in a time of crisis recovery – steer organizations and their people back to their true mission.