Need a compass?
---
25% of people simply give up on navigating their benefits out of sheer confusion. Others make hasty decisions. Results show that these early decisions affect their quality of care and costs in big ways later on.
We can start them off on the right foot. With healthcare navigation and clinical guidance, we improve the quality, cost and experience of care from the get-go. Powered by analytics, research and experience, our platform pinpoints high-quality, low-cost recommendations across all types of care — creating serious savings for everyone.
Here's the Challenge
Finding quality healthcare is tough
It's near impossible for employees to navigate confusing healthcare lingo, expensive bills, rising premiums and varying costs without the right support.
Here's how we solve it
Make it simple from the start
You need a partner to give expert medical opinions to your people on everything healthcare and how to find high-quality, cost-saving care that suits them. With healthcare navigation you can help employees find providers, review costs of procedures and bills and provide education, tailored research, and expert referrals.
More of what's possible with Healthcare Navigation
---
For employers
You've invested in a benefits strategy, but now it can finally find its North Star. Our Healthcare Navigation solutions put healthcare decisions in your people's hands and guaranteed ROI in your pocket. And with an average NPS score of +80, other orgs think we're on the right path, too.
Benefits
Improve health benefits satisfaction
Increase utilization of health benefits
Eliminate low quality providers who refer high cost care
Reduce costs while maintaining high quality of care
Build trusted relationships with your people around their wellbeing
Tackle the disproportionate cost of employees not correctly managing their condition
Identify people who are at higher risk for high-cost conditions or surgeries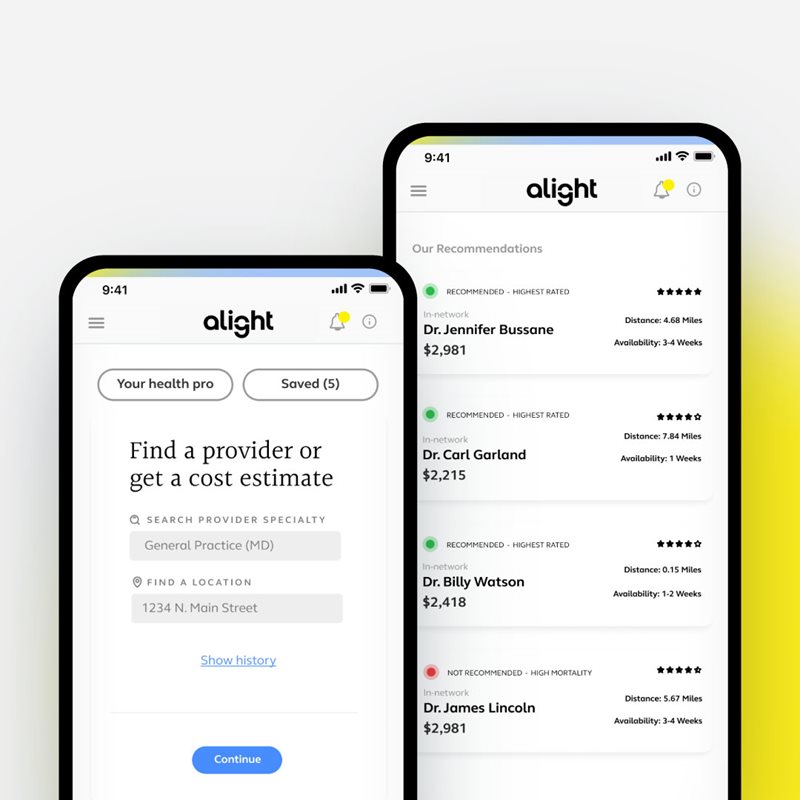 For employees
Your people get unbiased guidance when selecting a health plan and personal support all year for medical, dental and vision benefits. Our Health Pro® and Medical Allies help verify care coverage, schedule appointments, transfer medical records and coordinate care.
Benefits
Find highly-rated, cost-effective providers
Provide education, tailored research, and expert referrals
Compare costs for care
Drive lower cost Rx options
Connect to the right program at the right time
Get help with medical bills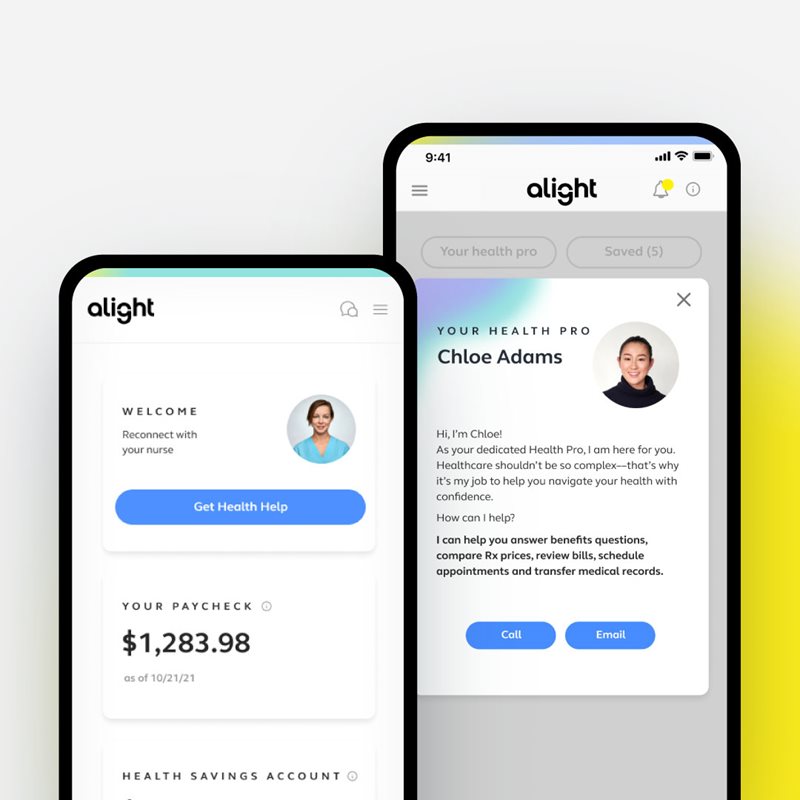 Guiding LendingTree employees in the right direction
In 2015, LendingTree partnered with Alight's Healthcare Navigation solution to help employees maximize benefits, improve outcomes and lower overall health plan costs. "You guys took something really complicated and made it really easy for me to understand. I got assurance that I was making the right choice in choosing my benefits package at my new job, and you work fast!"
LendingTree employee
Case Study: Siemens Energy & Alight Healthcare Navigation
Learn more about how companies are embracing Alight Worklife® and Alight Healthcare Navigation to boost employee engagement and wellbeing-- improving outcomes and saving significant costs.
Ready to get started?
Learn more about how we can help your business.
Explore our other solutions
---