Alight APAC team recently concluded Alight Customer Connect 2023 event in Singapore, on 21st April 2023.
The event held at Orchid Ball Room, Marina Bay Sands and was attended by senior leadership from Alight Solutions and Workday, and over 100 customer representatives and industry experts. It was an evening full of networking, collaboration, and valuable industry insights.
The event got off to a great start at 4:00 pm with a Welcome note and powerful speech by Cesar Jelvez, Chief professional services and Global Payroll officer at Alight Inc. He shared some great insights on the Alight and Workday partnership and its expansion to deliver unified HCM and Payroll. Cesar's opening note set the tone of the event and it was followed by two Fireside chats with Alight Customer leaders and Workday Co-CEO- Carl Easchenberg discussing the importance of collaboration and innovation in the rapidly changing world of HR and finance.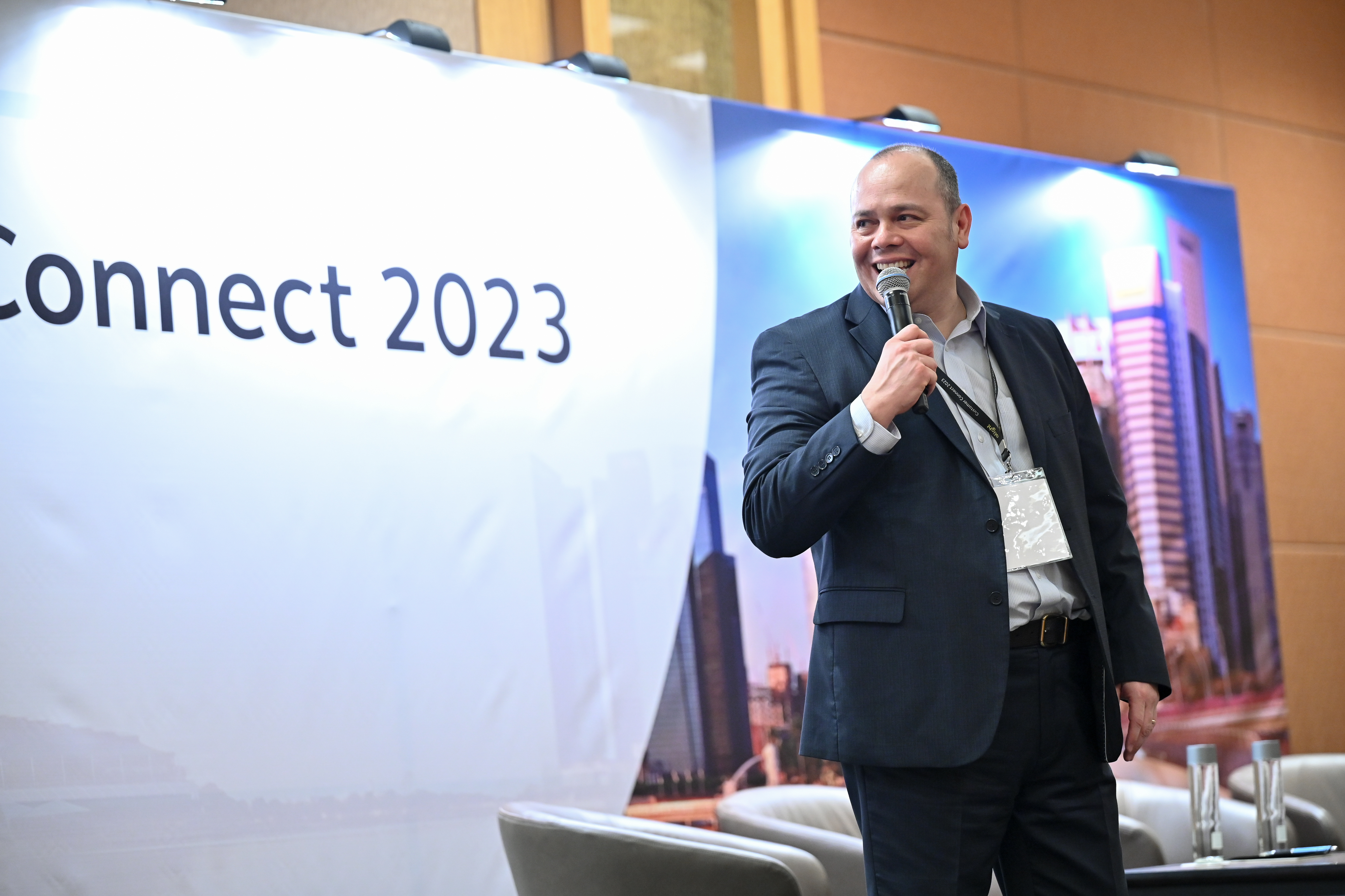 Our first fireside chat was an insightful discussion on the future of human capital management (HCM) and financial systems titled "The road to transformation doesn't end here". The session speakers were – Dr Lee Chay Hoon -CPO, Sembcorp Marine, Say Hong Teo, Group Chief Officer Surbana Jurong and Sor Cheng Tan- MD at DBS Bank. The session was moderated by our Vice President -Professional Services and Payroll for the APAC Region – Anirban Dass.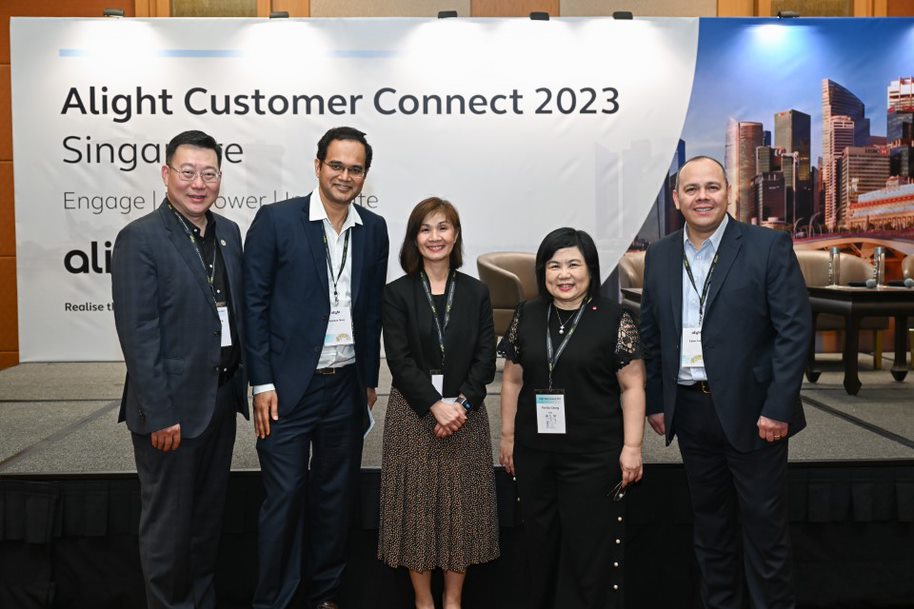 The leading trends in the domain of HR and business transformation were discussed and our speakers shared their interesting transformation experiences with the audience. Our Customer leaders shared some great experiences and in one of the responses Mr Say Hong Teo mentioned "As the Group Chief Officer (Integration, M&A) of Surbana Jurong, I have led the group through several transformation journeys. Throughout the cycle, I learned that the key to success is to keep moving towards the goal while understanding that seeking perfection is not always possible. I also realized the importance of surrounding oneself with the right set of people and finding the right partner.
Alight proved to be the perfect partner for us in this project as they had the right skill set and mindset, and we took the time to select them, keeping aside the tier classification. The real team who are doing the project really matter, and Alight delivered with excellence.
The expertise of people involved in HR transformation and commitment to delivering results is the key and it was evident throughout the project. We are happy with our decision to choose the right partner and their contribution to our success!"
Dr Lee Chay Hoon's, CPO SEMBCORP highlighted the difficulties they faced in phase one of their Workday implementation and how Alight helped them overcome these challenges in the second phase. She praised Alight's team for their support and expertise in making the data side transition smooth and for helping them reach their goals. She commented "I would like to acknowledge Alight, especially in our second phase of implementation. After a near-traumatic experience in phase one with a different partner, we lost a few important resources owing to the difficult process. But Alight has been a great blessing. Our rollout was planned for many countries, and in the second phase, Alight made, whatever went wrong in the first place, right for us. Alight made the data side transition very smooth and beautifully laid out. The team is still helping us reach perfection. The process is ongoing, but we are grateful to have a partner as good as Alight to handle us through the transformation process. The team was right there to help us arrive, and we arrived."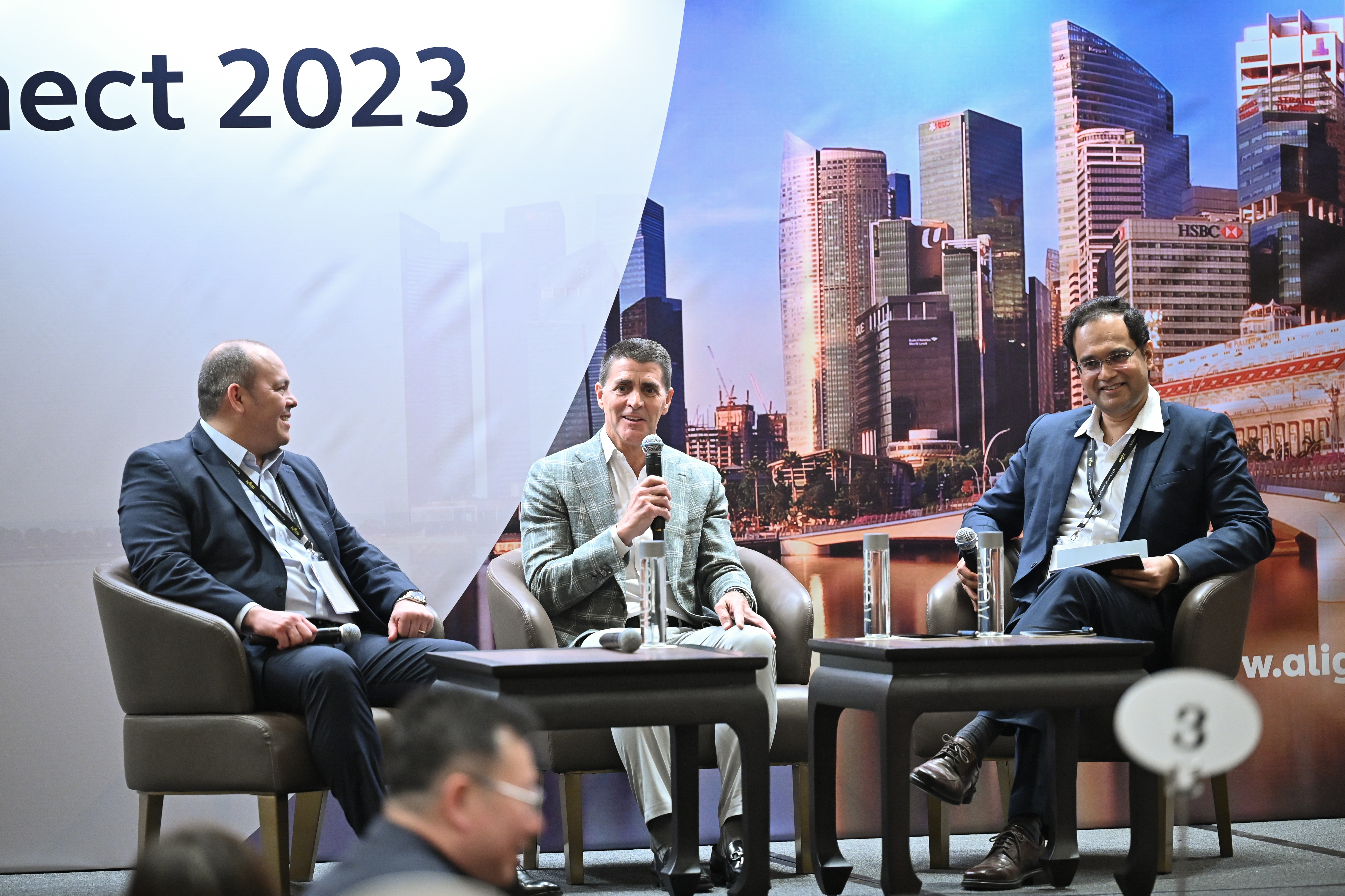 The second fireside chat session took place between Cesar Jelvez, Alight's Chief professional services and Global Payroll officer and our partner leader and Workday's Co-CEO- Carl Easchenberg. The session topic was "Fostering disruptive innovations to enable organisations to be future-ready" and was once again moderated by Anirban Dass.
In the opening of the fireside chat, Carl Eschenbach, Co-CEO of Workday started by thanking Alight customer representatives, he mentioned "I had the pleasure to hear from three Alight customer representatives in the previous fireside chat session. Listening to their experiences was truly a delight, and it's clear that the partnership between Workday and Alight has made a significant impact on their businesses in the ASEAN region. I want to extend my thanks to the Workday team ASEAN and the Alight team for their continued collaboration and success in serving our mutual customers."
This enlightening discussion covered the leading topic of next-gen technologies, AI and ML and their impact on the overall employee experience and processes. The new technology that can help Workday users in human capital management by providing data-driven insights, improving the employee experience, and increasing efficiency and productivity was extensively discussed during the session.
The event concluded with a networking session over dinner and drinks, allowing our guests to connect and engage further. Exhilarated with the response, Anirban Dass- Alight's VP- Professional and Payroll services commented that "It was so rewarding to see our attendees engage with each other, share our experiences and ideas, and strengthen our relationships. The discussions were lively and thought-provoking, and we are incredibly grateful for your contribution to making it a success. We know that these kinds of events are critical for our clients and partners, and we are already looking forward to hosting more events like these."
Alight Customer Connect 2023 was a huge success, bringing together industry experts and leaders in the HR and business domain to share insights and strategies and discuss the future of human capital management (HCM) and financial systems.
The reason we say this is because of the love and appreciation that our team received from our delegates, here is another noteworthy quote that Ms Sor Cheng Tan, MD at DBS Bank shared from the stage
"Workday implementation four years back with an ambitious goal of seven months to roll out was a challenging task for Alight, and this was their first implementation in Singapore, making it even more difficult. We had to navigate through various regulatory hurdles, and both sides had to learn from each other to ensure a successful outcome. On top of having a good team and strong knowledge, another important thing is a collaboration which is needed from both sides.
Our internal team worked tirelessly day and night, and received great contributions from our partners, Alight and Workday. Their strong partnership and perseverance played a significant role in achieving our goal. Within seven months, we were able to roll out Workday in 16 countries.
We learned an important lesson through this implementation about change management. We realised the power of proper training and importance of onboarding our staff with the new system. Since then, we have implemented a more extensive change management plan that includes pre-launch sharing training, roadshows, and pivot groups to ensure our staff members are comfortable with the system.
I highly recommend Workday and Alight as partners for any organization looking to implement a new system. Their expertise, collaboration, and commitment to success is remarkable".
The contribution from our speaker delegates and Team Workday helped to facilitate meaningful discussions as they delved deeper into the challenges and opportunities faced by HR and finance professionals and offered insights on how to stay ahead of the curve.