HR capabilities are at the heart of successful HR transformations. Upskilling HR capabilities has been a top priority for the function. In this years edition of the HR transformation study, some unique variations in the desired capabilities are observed across the HR function from both APAC organizations and Mature Archetype organizations. A signal that the fabric and ways of working in the function are changing.
HR Business Partners
Being able to influence leadership and facilitate change were essential skills that would enable you to excel as a HR Business Partner (HRBP). Additionally, Business Partners are expected to enable Agile ways of working; this is a new skill which will see an increase in demand as organizations work on deploying solutions in collaboration with business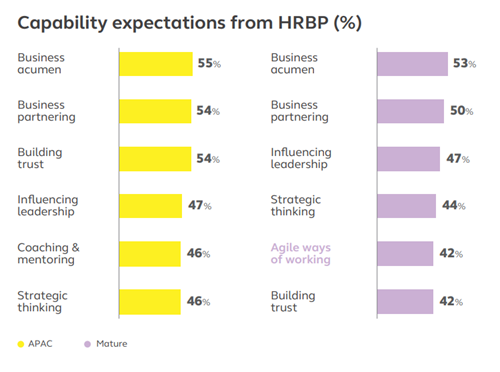 Centers of Excellence
Business acumen is a rapidly gaining ask from Centers of Excellence (CoE) role holders as organizations accelerate transformation. Looking at the Mature Archetype organizations, creative solutioning, savviness to think digital and agility are key skills being requested from the CoEs. These complement the need for rapidly deploying and improving on solutions.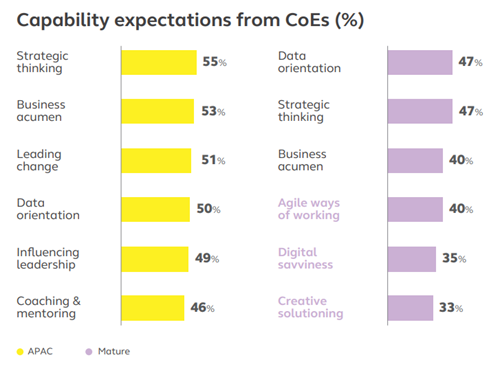 Field HR
This role is a critical anchor of delivering employee experience and driving organisational changes. Agility is the top ask of this role in Mature Archetype organizations. However, agile is a mindset that the entire function needs to embrace; which is visible only in Mature Archetype organizations. In addition, Mature Archetype organizations also expect business acumen from all front facing roles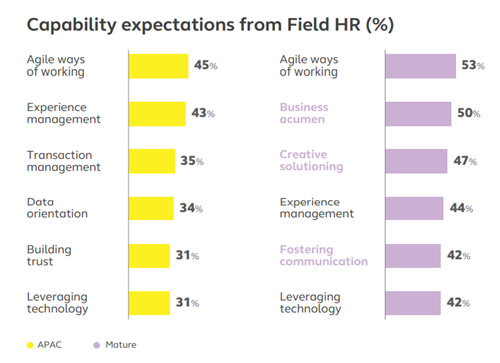 Shared Services
HR Services/Transaction role continues to gain importance as technology and people analytics become central to the success of HR. As organizations put employee experience at the Centre, capability expectations from Shared Services will change. For this role, similar theme is observed across all organisation archetypes. This reflects that the lack of capability in this role becomes an early bottleneck and is being addressed by all.