2020 was an extraordinary year, and with such an extreme year comes extreme data, making it hard for your organization to understand what your support needs might look like in the next 1-3 years as your team and your employees begin the transition into the new normal.
To help our customers see a more realistic view of what their support needs may look like in the future, and how Alight can help, we analyzed the data from our Application Management Services (AMS) customer requests from April 2019 to March 2020 to create an accurate snapshot of what our clients needed in terms of AMS support prior to the pandemic. Please note that the data sets included in this article are inclusive of Alight's European Workday customer base only.
3,319
requests submitted and logged by our AMS teams
34,670
hours spent on request resolution
55
requests per customer on average
578
hours spent per client on average
The largest troubleshooting categories
Overall, from April 2019 to March 2020, Integration support was the top ticketed item for AMS, followed by requested support for reports and absence/ time off.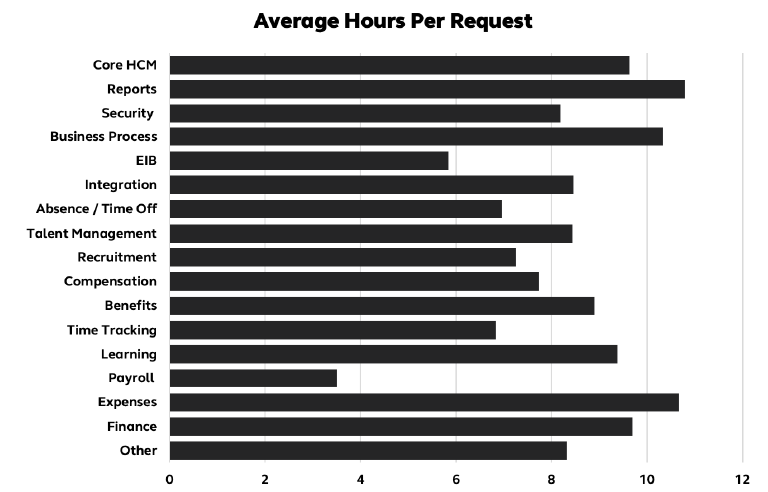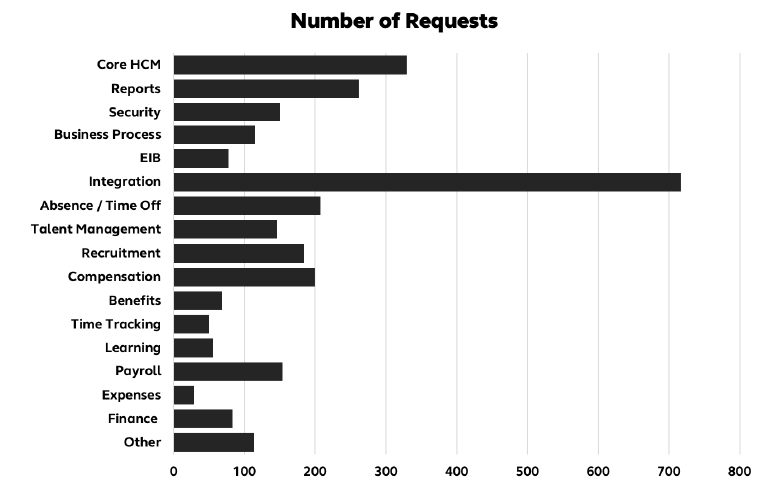 Thriving through the first year
Our analysis also found that 46 percent of the AMS tickets raised by customers during this time period were within 12 months of their go-live date, spanning the various Workday modules.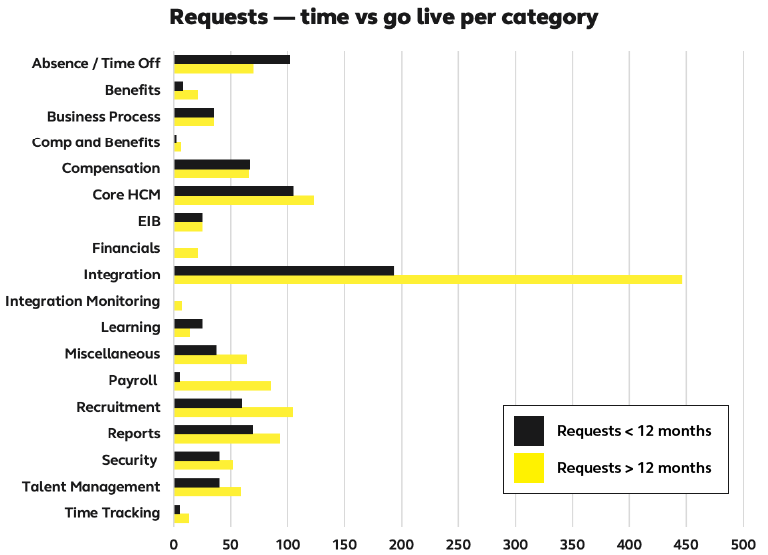 Top troubleshooting problems per topic
Below are some of the top reasons our customers reached out to us between April 2019 and March 2020 for AMS support.
HCM
Business process updates- enhancements, condition rule changes and notification changes; business process re-design
Reporting- issues with report security and the creation of custom reports
Security – access issues, roles, incorrect routing issues, custom security rules, security issues with Document Generation and unassigned tasks
Integrations related request that required functional assistance
Other - WD audit trialing, performance issues, WD mobile, workers council working sessions.
Absence/ time off
Incorrect Time Off Balances and/ or Accruals
Hire and Termination proration logic on accruals
Rounding rules on accruals
Worker job changes (including proration of accruals and eligibility to time off plans)
Understanding the management of Accrual overrides/adjustments and Accrual scheduling logic
Talent and Performance
Performance review related configuration - changes to support the year's performance management cycle, mass rescind needs, incorrect rating scales and changes to types of data for evaluation, including competencies, questions, changes to help text and label names, updating translations and review rules.
Goals updates- incorrectly archived goals, inability to archive due to rules and archived goal errors due to manage goal rules.
Talent-related security- issues around talent card and report security
Talent Reporting- primarily talent card related issues
Calibration- updating calibration fields on n-box, new rating scale updates and troubleshooting calibration issues with workers not plotting.
Compensation
Compensation plan configuration- creating new plans, advising on frequencies, currencies, and edits.
Business process help- validations, approval chains and routings.
Compensation step issues and corrections - corrections of amounts, help with employee details requested an updating historical compensation step amount.
Reporting - custom reports for compensation review process, updating calc fields, issues with report fields not returning correct compensation data.
Custom compensation review statements (advanced compensation)- overview assistance with the current merit or bonus configuration
Security (who can see certain compensation elements) - issues caused by reorgs
Compensation plan assignments - setting up compensation plans, issues around the plan configuration and plan assignments themselves.
Payroll
Absence in relation to pay- holiday pay, maternity pay sickness pay
Earnings and deductions- issues with existing earnings and deductions and the creation of new earnings and deductions.
Other – pension related issues, tax calculations, issues while running payroll, pay slips, retro changes and pay group issues.
Finance
Expenses – settlement issues, VAT changes following tax authority changes, business process changes, credit card provider changes
Reports – invoice layout changes, changes following internal re-organization
Accounting – GL account changes, spend / revenue category changes
Integrations – adding integrations for new bank accounts, change to credit card provider
Security – changes required following a Sarbanes Oxley audit
General – major changes following company acquisition
Recruiting
Agency management- business process and security setup
Business process updates- candidate flow updates
Custom notifications- help setting up notifications localized to regions
Offer letters- signature changes
Recruiting system health checks- reviewing complex configuration for optimization
Benefits
Benefits election issues or enhancements- usually requiring a change in enrollment event rule configuration or a data load to correct elections
Business process updates- One-third of requests related to the New Hire BP
Benefit rate updates- updating rates and benefit data load support
Passive events (events not triggering or being picked up by the wrong population)
Open enrollment requests around U.S. Benefit elections
Learning
Deployment related – go live support, workshops, estimates for divestitures
Campaign - campaign related tickets usually for clients just gone live with Learning
Learning configuration changes - error or issue in tenant that client cannot solve themselves, related mostly to security
New release – retired release items, SCR account related tickets
Known WD issues - well known Workday issue (need enhancement but not on the roadmap), brainstorms available
Technical issues - SCORM package issue, issues with media files not running properly, help with editing video's such as adding multiple choice questions
Integrations
Payroll – new third party payroll integrations, adjustment to existing payroll integrations (e.g. new paygroup used in WD added to integration), defects related to people missing in the integration, enhancement to the depth of detail being transferred
Active directory – new single sign-on integrations, changes arising due to internal system updates, troubleshooting and resolution of unique issues with SSO
Clarification process – post go-live knowledge transfer of integration processes,
Building new interfaces – interfaces related Learning, Recruitment, Benefits and many others
Consultation for self-build – assistance and guidance with self-developed integrations.