It has now been almost a full year since everyone was abruptly sent home with a laptop and new VPN credentials. Now here we are at the start of 2021. The shock of doing business completely online has (almost) worn off and we have (mostly) become accustomed to working from home (read: We've all watched the entire Netflix and Amazon Prime libraries.)

Then something unexpected happened as we embraced the full force of working virtually – the face of HR became a portal rather than a person.

Like many organizations, your company has probably been on a multiyear HR transformation journey. And like many organizations, one of your company's goals is to streamline HR business processes and reduce HR admin overhead by enabling or improving employee and manager self-service access. When it became clear that the pandemic wasn't going to be a blip, we began to realize that in order to achieve our goal we have to shift our thinking around what "self-service access" looks and feels like for managers and employees.

If you're a Workday customer, you're already ahead. Workday offers many virtual workforce features that help make the shift to self-service easy and engaging. In this article we will focus on just two, Workday Assistant and Workday natural workspaces. We've selected them for their simplicity and their usefulness to employees. There is no additional cost for them, they are easy to deploy and they bring immediate value.

Workday Assistant is a chatbot inside of Workday. With Assistant your people can connect right to tasks, information, and processes through a simple conversation. Assistant can point to content both inside and outside of Workday, in addition to recommend the best course of action as part of a search in Workday. Here's just a few of the more than 20 Assistant skills:
Worker/manager lookup
​Clock in and out
View pay slip information
Request time off
Give anytime public feedback
There are three reasons why you want to deploy Assistant.
It sits on the home page
It's conversational
It's simple
We don't expect our employees to be experts in Workday, and with Assistant they don't have to be. In the screenshot below, all Joy had to do was click once on the Assistant icon, type in her question, and viola! she gets the information she needs. The whole interaction took less than a minute and it felt so natural, she even thanks Assistant.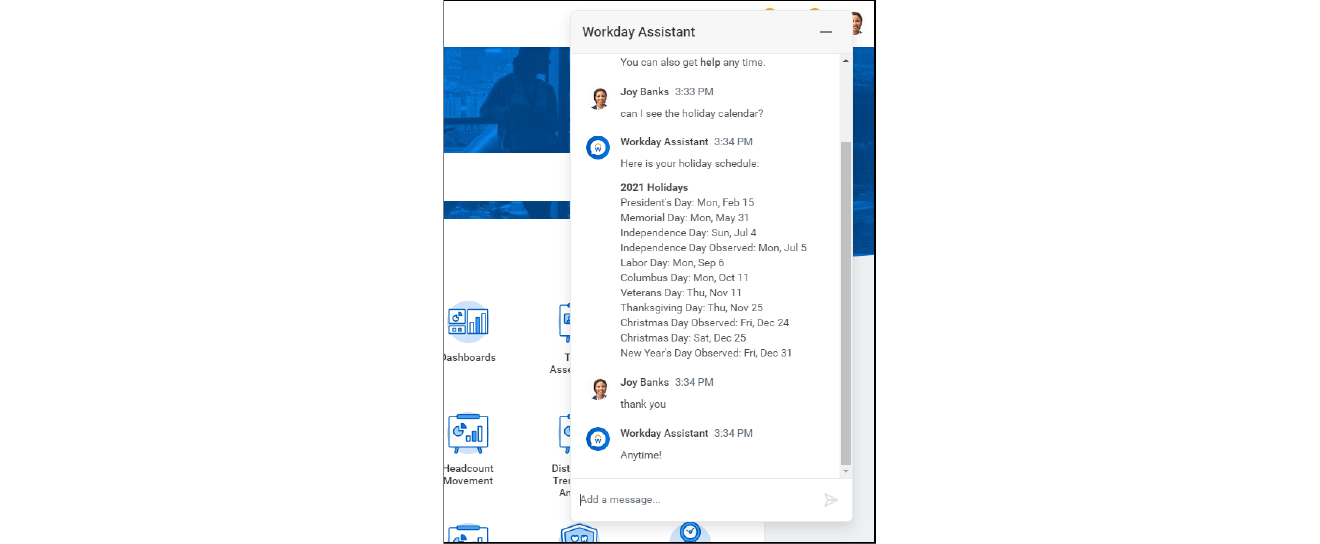 Workday natural workspaces is a collection of apps that integrate with the leading enterprise collaboration tools, Microsoft Teams and Slack. Just like Workday Assistant, these apps make interacting with Workday simple and more importantly, they put Workday functionality in the flow of work.

In this example, Joy is using Workday for Teams to request time off. All she needs to do is provide the date, pick the type (which is not shown) and click submit. Again, the task is completed in less than a minute, Joy has marked it off her to do list and she's has moved on to other activities. No muss, no fuss.

With Workday Assistant and natural workspaces, you can empower your virtual workforce to be self-sufficient with their HR needs through a simple and familiar experience that is conversational and easily available, a bit like when your employees used to walk down the hall to ask HR a question.
Ready to get started?
Learn more about how we can help.