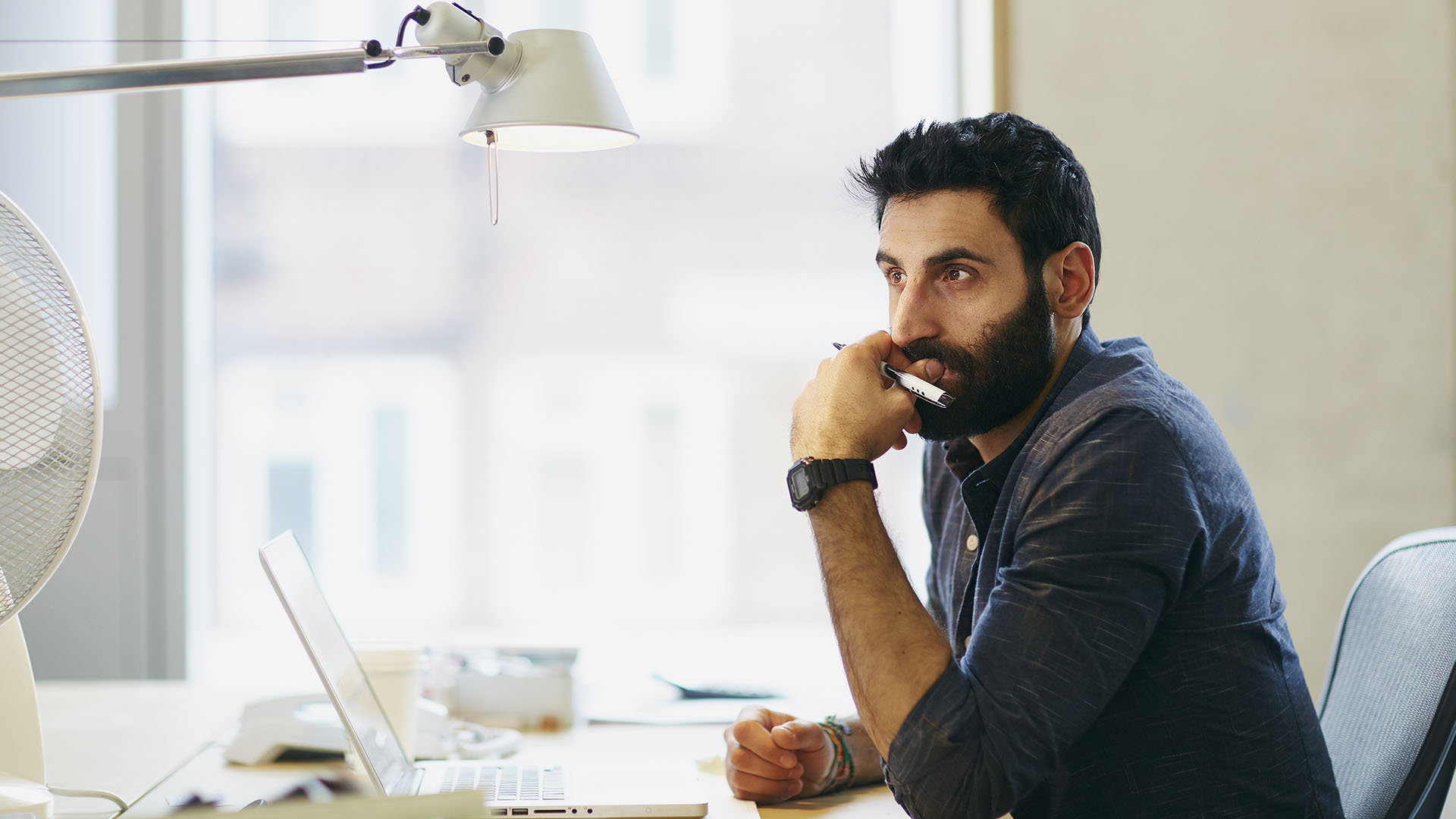 Many organizations' HR leaders struggle to deploy and maintain position management for a variety of reasons. Here we provide an overview of position management, identify key challenges to implementation and deployment, as well as recommending how organizations can accelerate their path to success.
What is position management?
Position management is the process, structure, and technology used to maintain positions in an organization. This is done independently from employees. It gives control over hiring with the ability to define hiring rules and restrictions for each position, including:
The number of positions to fill must be specified
An open, approved position is required before hiring, promoting, transferring, or demoting workers
Each position created can have its own definition and hiring restrictions
Defining and tracking every open position is a key part of position management. This results in the following benefits:
Improved speed and accuracy in workforce planning
Succession planning and internal mobility opportunities
Organizational recruiting
Human capital reporting
Improved payroll accuracy
Budget to actual analysis
Job management versus position management
Job management is the alternative to position management, and does not require the same level of coordination.
It is simpler to deploy because it does not require the same planning and governance. However, organizations will not get the efficiencies they would have received from position management without significant ongoing manual work.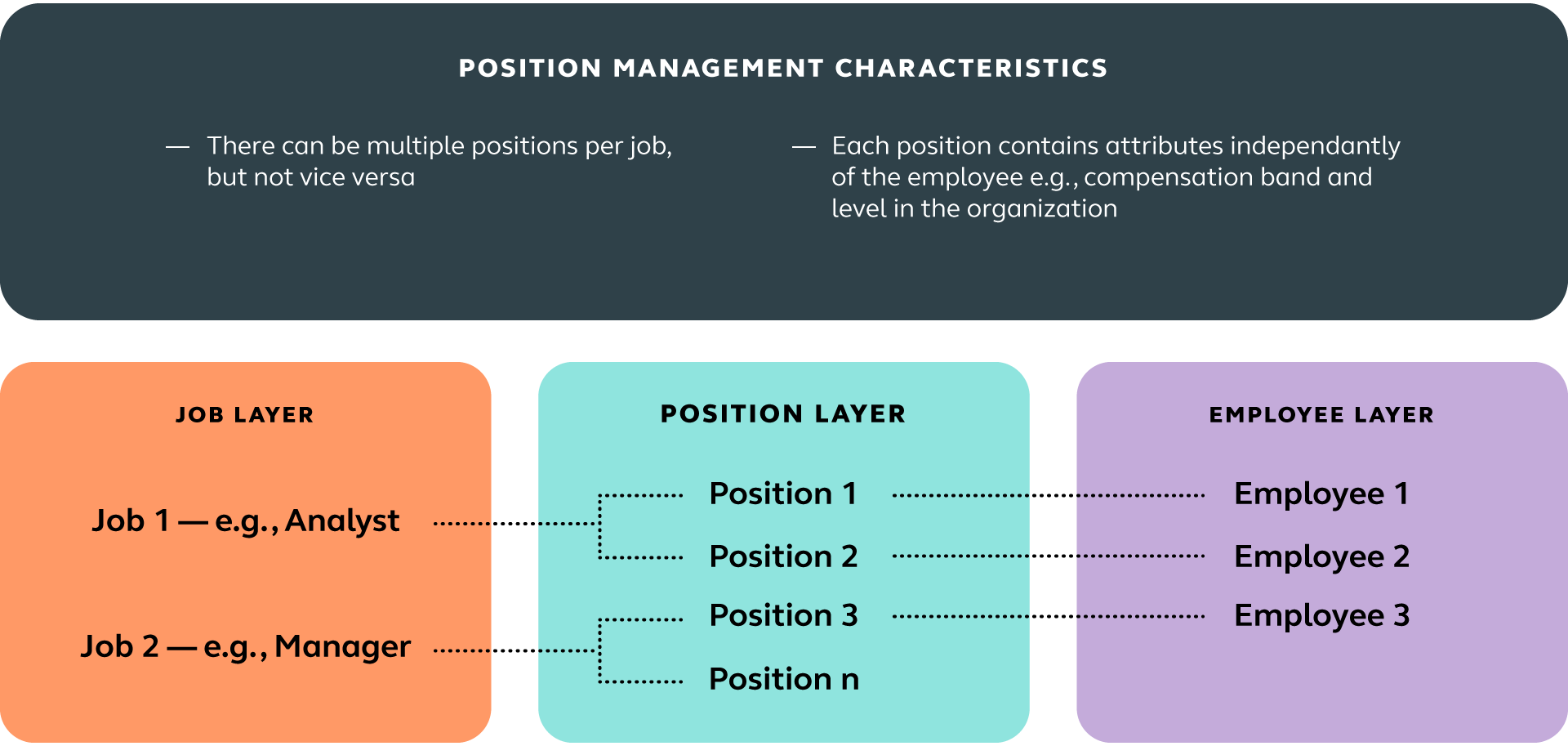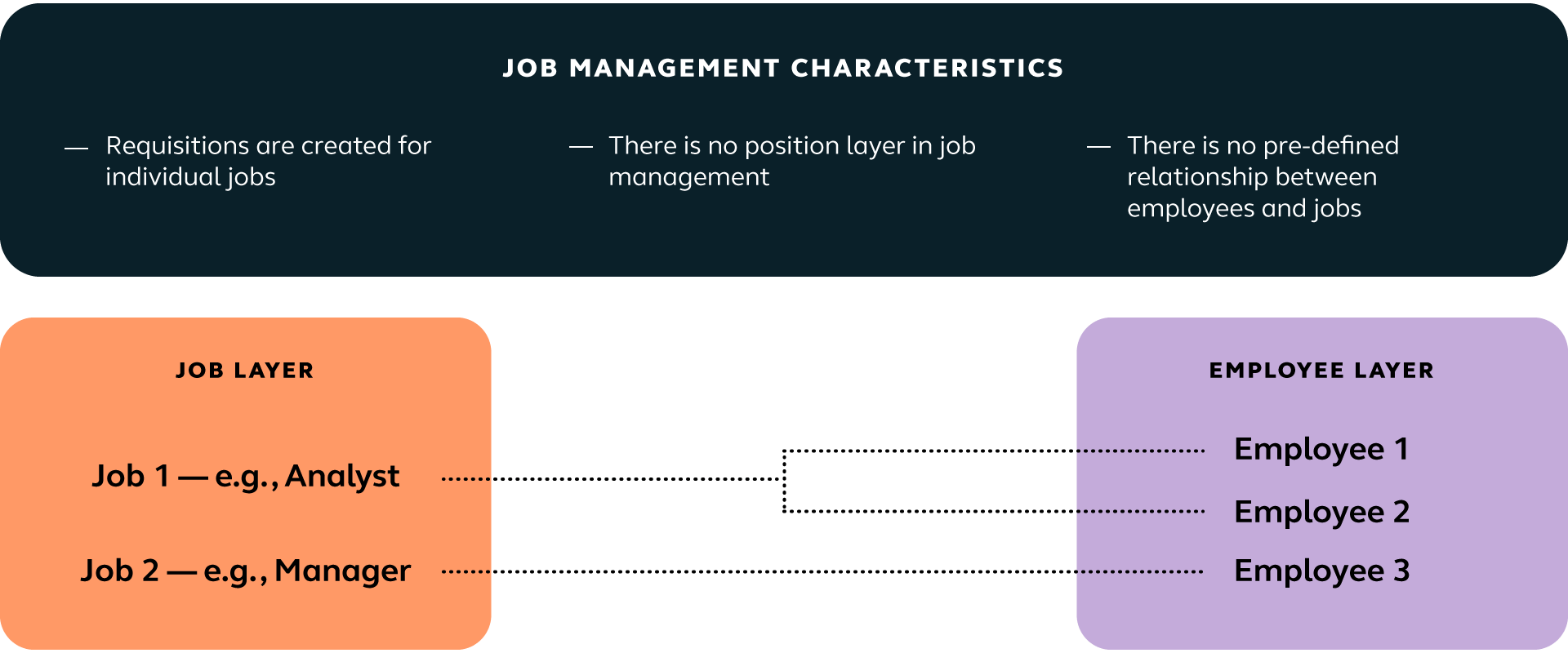 Why is position management difficult to implement and maintain?
Coordination — Position management requires process consistency, approval protocols, and coordination across finance and HR departments to get all of the benefits described above.
Change management — Because position management is a combination of process, structure and technology, there are typically extensive organizational change management needs. These are often not appreciated or considered until problems arise after position management deployment. Change management is critical to the success of position management since it very often requires a shift in mindset to ensure adoption and use.
Ongoing monitoring and maintenance — Successful position management requires constant monitoring. This is to ensure HCM positions mirror the budgeted positions finance and business leaders expect. In addition, default positions may become outdated and not reflect organizational changes without regular maintenance.
How can my organization get started with position management?
Align — Connect with the right teams in finance, HR, and the wider business that would benefit from position management's benefits. Identify tools and processes that may already be working on position management and create a single working team to address any issues going forward.
Educate — Learn from your team's experiences, including in other organizations. Remember, do not get sidetracked by all of the reasons people use in support of job managemen
Assess — What are the potential options for position management? A single platform or a 'best of breed' scenario? What technology have you already purchased that you could leverage? What do you do well already that can help your position management efforts (e.g., labor budgeting)? What reporting gaps do you currently have between leadership requests and system capabilities that could be solved by successfully using position management?
Most importantly, get insights from your trusted advisors who know the tools, options, and common deployment pain points.
Position management, when done well helps enable the full enterprise strategy as it is crucial for workforce planning, budget forecasting and management as well as other talent and finance goals.
It is a combined effort from HR, finance and the wider business to do it effectively which can be challenging for many organizations. If you're looking to get started with position management, talk to one of our Professional Services experts today.