Almost all CFO's have automation on their agenda for 2021 and those just starting out with automation are struggling with how and where to begin.

Pick an end-to-end process and start at the end
Alight's Finance Transformation practice has an "automation-first" approach to all process optimization initiatives. Leveraging Alight's proprietary tools and evaluators, we identify the best use cases based on client needs. However, one of the approaches that we highly recommend is to start with an end-to-end process and build a bot to automate the end of that process. For example, within the purchase-to-pay (i.e., P2P) process, automate the payment process (i.e., invoice processing).

The end of the process is where all process errors or exceptions collect, which will enable a process optimization team to begin their continuous improvement journey in a prioritized, logical way.
Build and run your bot, then analyze your initial results
Once you have selected your process to start your automation journey, build a minimum viable product to replicate the process and test it. Your result will most likely not be perfect…but that's okay, you have started your automation journey. Automation is only as effective as your underlying process. Where you have complete, accurate data, standardized processes, effective workflow and everyone upstream is doing their job, your automation will work and free up time for the process experts to focus on fixing the rest. Once you have your bot in place, you will measure your automation-to-exceptions ratio. This will not just help you understand your ROI, but also determine your next steps.

Most likely, regardless of your automation percentage, you will want to understand why its not 100%. The logical next step then, is to run reports to categorize and analyze exceptions. One approach to categorizing exceptions is by process owner. In the P2P example, you may want to separate exceptions as follows; requisition exceptions, purchase exceptions, supplier data exceptions and receipt exceptions in addition to the standard workday delivered reports such as a match exceptions to get started. With this data in hand, you can begin performing root cause analysis to determine areas where improvements or standardizations are needed in the end-to-end process; which will essentially result in an improved automation percentage.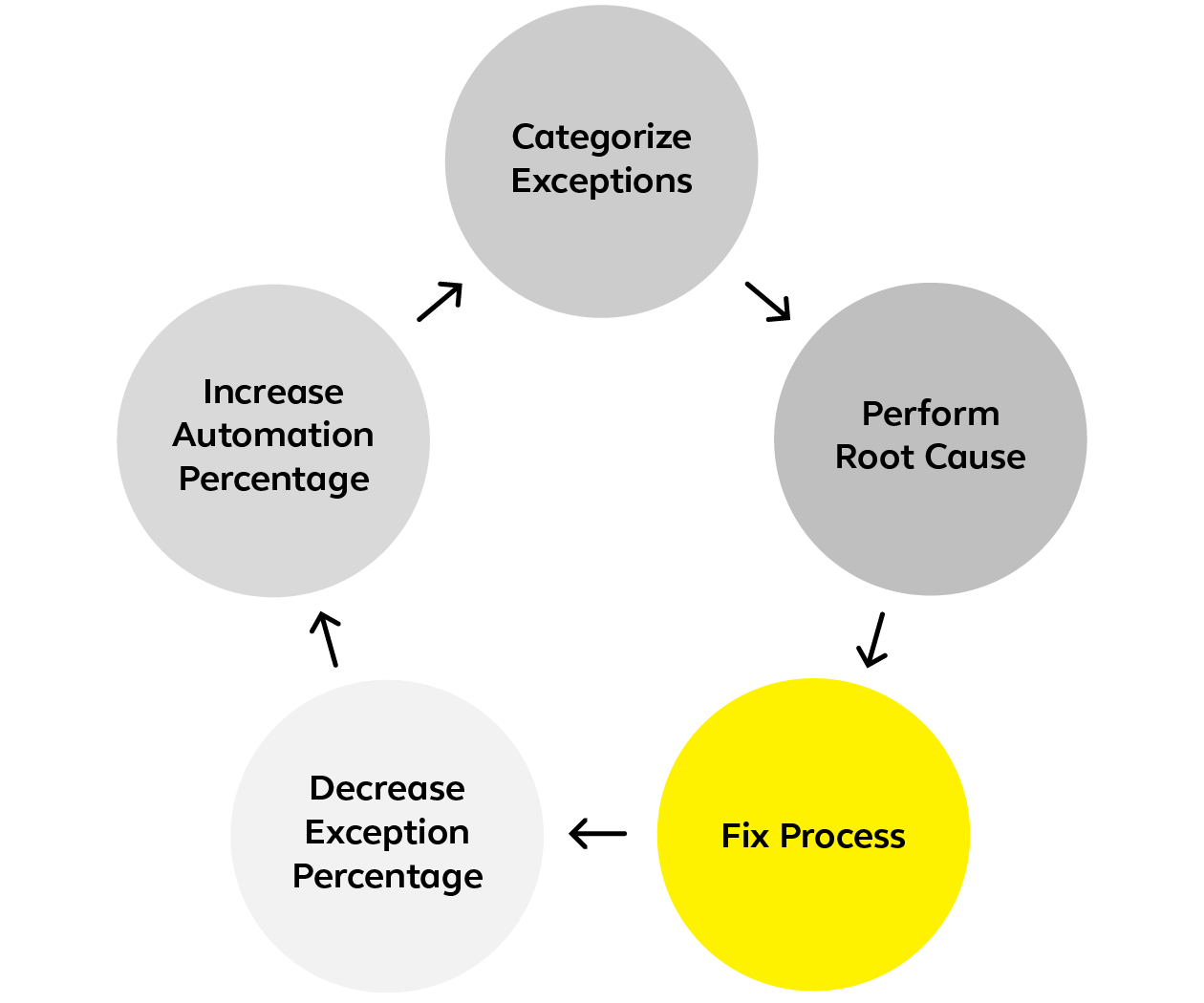 Process improvements can come from people, processes and technology
Continuous improvement analysts must search for process improvements from every angle. Their focus should center around permanent improvements. People fixes can come in the form of providing better job training or simply getting everyone to "do their jobs" by measuring their performance and tying it to their goals. For a purchasing agent within the P2P process, an example of a measure with some permanence is to measure the number of complete purchase orders without match exceptions that initiated from their performance.

Permanent Process fixes that enable maximum automation center around embedding very strict business rules and workflow within your ERP. In the P2P example, an invoice with match exceptions would never be forwarded to the invoice processor. That invoice would be rejected and sent backwards to be fixed by whomever allowed the last exception. If the exception were related to the receipt, workflow could be configured to send the exception to both the supplier and the designated receiver.

Ultimately, technology can be leveraged to drive maximum permanent process improvement by minimizing the change for human error or omission. The most aggressive use of technology is to automate key components of the entire end-to-end process. But it doesn't end there; automation provides you with data which can be leveraged by artificial intelligence and machine learning algorithms to analyze trends, determine strategies and change your business response to achieve your goals.
Workday provides the ideal automation platform
Whereas other technology platforms are open-ended frameworks that require a process to be built, Workday starts with a standard set of end-to-end processes and discourages customization where it's not needed. Standard processes mean fewer exceptions. Fewer exceptions mean more automation and an improved ROI.

Workday provides excellent standard reports designed to analyze and continuously improve processes, an example being the match exceptions report for the P2P process.

The standard Workday business processes start with strict business rules and workflows designed to minimize process exceptions and maximize automation.

Workday enables three effective ways to enable the automation of the movement of data without loss of controls; automated data input through user interface, via standard upload templates such as EIBs or i-Loads, and through numerous API's.
Partner with an expert to help you automate
Alight continues to heavily invest in automation and has many customer-ready automation tools that cover; purchase-to-pay, invoice-to-cash and journal entries. These tools cover the entire automation life cycle. They automate many deployment activities and post-go-live processes. Proprietary diagnostic dashboards and analytics provide deeper insight on your processes, exceptions and areas where improvements are possible. Automation of some processes can be rolled out within one week and they kick-start the continuous improvement journey for your organization.