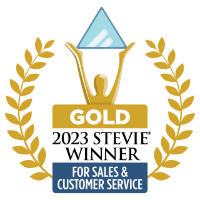 Alight, a leading cloud-based human capital and technology services provider, today announced it received Gold and Silver Stevie® awards for Customer Service Training Program of the Year and an additional Gold award for Customer Service Training Team of the Year. The awards recognize the dedication of Alight's talent and development team that support its retiree health solutions team.
The 17th annual Stevie Awards for Sales & Customer Service evaluated more than 2,300 nominations in this year's competition. Finalists were determined by the average scores of more than 170 professionals worldwide, working in seven specialized judging committees.
Alight's talent and development team was recognized for its longstanding work history of uncovering business problems and needs to create impactful learning content for contact center agents. The team has broken down an immense amount of complex knowledge that involves highly regulated health insurance industry content into digestible and transferable learning made simple. With the addition of a video-based practice tool called Rehearsal and a new training program, the talent and development team has taken new hire onboarding process to a whole new level.
"Over the years, we've invested heavily in our learning programs and people, using agent feedback to fuel our improvements and innovations," said Andre Walton, executive vice president of Retiree Health Solutions and Absence Management at Alight. "This recognition is a testament to the dedication and hard work of our learning team for listening, creating the vision and then making it happen to positively impact our front line."