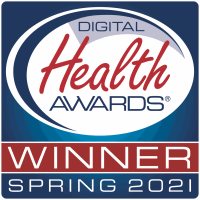 Alight Solutions, a leading cloud-based provider of integrated digital human capital and business solutions, has won a bronze award for our participant-facing COVID-19 Support Center, as part of the Web-based Digital Health category in the spring session of the 23rd annual Digital Health Awards®.
The program is organized by the Health Information Resource Center (HIRC), a national clearinghouse for professionals who work in consumer health fields, which honors the world's best digital health resources. The twice-yearly competition featured 65 categories in the following entry classifications: Web-based Digital Health, Mobile Digital Health Resources, Personal Digital Health Devices/Wearables, Digital Health Media/Publications, Digital Health – Social Media, and Connected Digital Health. A panel of 53 experts in digital health media served as judges and selected gold, silver, bronze, and merit winners from more than 700 entries.
Alight's COVID-19 Support Center was launched at the beginning of the pandemic and offers resources, articles, webinars, and the synthesis of other content by our physician leaders, being released by the CDC, public health officials, and other organizations at the forefront of responding to the pandemic. The center supports the clients that Alight serves, as well as their employees and families.