To assist your organisation in managing the transition to a virtual work environment, Alight's commercial lead, Matt Lawrence, shares his best practices around managing your organisation remotely with the right tools for a seamless employee experience.
The current pandemic has triggered a massive push for many people to work from home. For organisations that have kept up with the rapid evolution of technology, this quick pivot to a new reality of remote operations was likely smooth enough to allow for regular business operations to proceed.

However, organisations not technologically prepared for the sudden shift to a remote setting found themselves scrambling for work-from-home guidance to pass to their employees. Organisations must be prepared to effectively make the change from an office-based role to working remotely on short notice to survive in today's climate. A successful transition from the office to the home office is dependent on leveraging technology to manage employee productivity and workload, supporting colleagues and ensuring personal wellbeing.

Working in a remote setting is a key part of Alight's culture. While we have been working to maximise our colleagues' ability to work from home, many of our colleagues, including the Alight teams here in Europe, have always been home-based. And while working from home is new to some of our colleagues, it is business as usual as we continue to successfully deliver for our clients.

As a seasoned veteran managing virtual teams, below are some of my top tips for ensuring that the virtual workplace is as productive and enriching as possible for you and your organisation: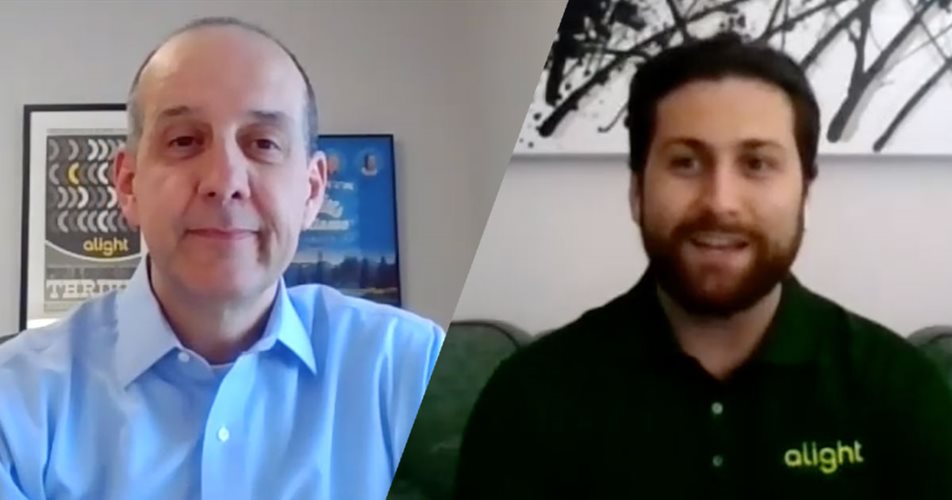 Alight On Video Series
Get insights on why establishing your cloud transformation strategy is important and how a solid foundation is formed when you have the right tools and model to support your workforce.
The work day is anything but 9–5 right now. Give thought to your schedule and feel empowered to find what works best for you and your out-of-office duties. Ensure your work pattern is flexible enough to accommodate these responsibilities and to prioritize specific tasks that you need to achieve before the day is over.

Pick up the phone, or even better, video call a colleague when you have a question. Email is useful, but don't neglect the human connection.

Encourage non-work-related team catch-ups. Even taking just 30 minutes a week to talk about life outside of work at this incredibly stressful time can be very beneficial and boost morale. At Alight, we've taken part in virtual coffee hours, virtual trivia games and video happy hours to offer a few ideas.

Block time in your calendar for activities you really need to prioritize. Work in 45-minute increments, ensure you have a quick comfort break and stretch your legs every hour as a minimum.

Get away from your desk for lunch and coffee breaks—go for a walk outside if the weather permits.

Test your conferencing technology ahead of any important meetings to make sure that it works effectively. If virtual conferencing technology is new to your organization, ensure you have job aids accessible to your employees.

When holding virtual meetings, use video as much as possible as it creates a very personal, engaging environment. If you have bandwidth issues, switch it on at the beginning of the meetings to greet and introduce everyone—as well as for discussions and Q&A sessions—and switch it off at other times to ensure you can be clearly heard.

Circulate an agenda before meetings and set expectations at the conclusion. Highlight the crucial outcomes of the session and ensure you are on track with this throughout.

Do not exceed 2–3-hour virtual meetings and make sure there are regular comfort breaks—even just 5 minutes every hour will help refresh the audience.

Incorporate some interactive tools: WebEx polls and whiteboards, Menimeter, Slido and Kahoot! are some great examples to help ensure participants stay engaged.

Always be mindful of including all participants on the call—remember to call out team members even if they don't have a speaking role. Also be mindful that it is much harder to ask questions or interject when a meeting is not face-to-face, ensure you give enough time for questions and feedback.

Use the chat functions on your conferencing platform for questions and queries to minimize verbal interruptions when necessary.

Finally, make sure that you have a defined end to your day when you log off and take time to reflect on all that you've accomplished. Close your laptop and put it away to avoid the temptation of logging back on when you should be spending time with family and unwinding.
I hope that these suggestions curated from my years of working remotely will help your own situation become a positive experience despite the current circumstances.