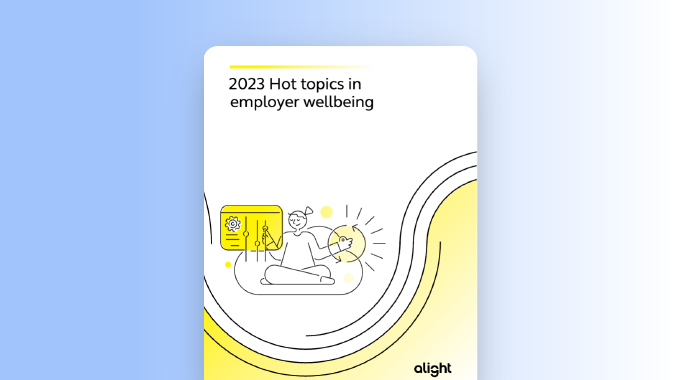 Alight's Hot topics in employer wellbeing programs report summarizes the results from our first-ever survey showing the current landscape of employer wellbeing programs and the changes that employers are planning for the upcoming year. The survey was conducted in the summer of 2023 and gathered responses from 63 organizations, together employing three million workers.
Based on the responses from more than 60 organizations employing three million workers, we found three key themes for employers:
The primary reason employers invest in a wellbeing program is to improve culture.
It's all about the employee experience.
There is a balanced focus on future investments across mental, physical, financial and social wellbeing pillars.
In addition to the report, you'll also learn how Alight is leading the wellbeing revolution.
We seek to improve employee wellbeing across all four pillars — healthy mind, healthy body, healthy wallet and healthy life, grounded in inclusion — so that your people can live their best lives at work and at home.
Please fill out the form to access the content.
webpart.gatedcontentform.loading…